#IWD15: Empowering women and girls in Afghanistan
To mark this year's International Women's Day, we're focusing on the progress being made in rural Afghanistan to empower young women and girls through our education and literacy programmes.
Nine-year-old Aisha* is a grade three student.
Every day she completed her daily chores before walking the 35 minutes through the mountainous district of Rustaq to get to school. Aisha is an orphan and life here for children can be hard.
Travelling to school safely can be a major challenge for women and girls: there is a real threat of sexual violence, the Taliban and other armed militia operate in these mountainous regions and the terrain itself is home to wild animals.
Alongside the issue of gender based violence, extreme snow and floods can cause both students and teachers to lose up to five or six weeks of their school year.
Travel by foot becomes impossible, shortening the window of opportunity for learning.
Gender inequality in schools
Like many girls in her class, Aisha wants to become a teacher, an ambition that would not be easily achieved.
The pressure from a girl's family and village to conform to the normal gender roles of mother and homemaker, coupled with a lack of strong female role models, can have a negative influence on a girl's long term educational goals.
Their core text book includes minimal imagery of women and what imagery there is reflects the traditional female roles of mother and homemaker.
As many of these young girls have little contact with the outside world, there is a lack of alternative perspective on their potential role in society.
During a recent activity as part of our education project, young girls and boys were asked to draw a picture reflecting their views on education. The majority of boys drew a ladder with twelve rungs representing a full education, whereas many girls drew only six rungs.
It is widely accepted that boys and girls can be educated and play together up until the girls reach puberty, at which point it is viewed as inappropriate for them to be in the company of men without their chaperone or a woman present.
This is why it is vital for more female teachers to stay within the workforce in Afghanistan. Female teachers have proven to result in higher female student retention in schools.
This is not without its difficulties; once a woman is married she is expected to leave the workforce for a more traditional role of homemaker.
We are training teachers and supporting parents to prioritise their children's education, particularly girls' education, through our adult literacy programme and other opportunities.
This is in place so that children like Aisha get the opportunity they deserve to reach their full potential. 
Tackling gender inequality in education
We are also enrolling mothers in our adult literacy programmes, which teaches basic literacy skills and helps them to understand the importance of educating their daughters.
Speaking about the programmes, Concern's Literacy Advisor Carol McGowan says: "The level of literacy is so low – if they can learn to read, it's an incredible start, it's the basis for all of them."
"Fathers are also encouraged to take part in these programmes. Participation by all is seen as the key to shifting attitudes around girls' education.
"Training teachers in gender equality in order to foster more inclusive classrooms has also been implemented. We're working with teachers to put this theory into practice: something as simple as giving different roles to students and dividing out tasks can increase gender equality within the classroom."
Despite the many challenges faced by girls and women in rural Afghanistan, the green shoots of change are beginning to show.
Mixed school committees have been established to help parents play a stronger role in their children's education and to champion equality within schools.
To support schoolchildren, we have been distributing basic supplies such as:
Schoolbooks
School bags
Writing equipment
Hygiene kits containing soap and shampoo
Alongside this, infrastructure has been put in place to provide the children with a safe, healthy environment in which they can learn, a vital necessity for Aisha's ambitions to be realised.
Previously, Aisha and her classmates attended school in canvas tents which provided little protection from the heat in summer or the biting cold in winter.
Concern built a new school which protects them from the elements and enables them to focus on what is most important: their education.
School headmaster Abdul Zahir said: "Without education we have nothing. Education resolves conflict, reduces poverty, and will help us to develop as human beings, and as a nation."
Find out more about our work in Afghanistan.
*Aisha is not her real name.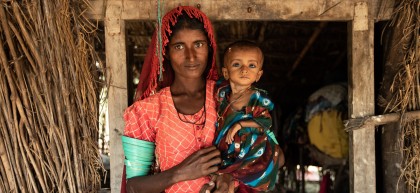 New to Concern?
Sign up to find out more about the transformative work we do in 24 of the world's poorest countries.
Before doing so you might like to see our
privacy policy
.