Success stories from the Concern and Irish Aid partnership
Since 2012, Concern and Irish Aid have been working together on a five-year programme to create sustainable improvements in the lives of 1.3 million people in the world's poorest countries.
Concern and Irish Aid began working together on the five-year programme in 2012 and over the lifetime of this partnership, Concern will implement 29 programmes in 18 countries. The programme aims to improve the lives of extremely poor people, while at the same time addressing the inequalities, risks and vulnerabilities that trigger the cycle of poverty.
Concern and the Irish government have a successful history of working together, and this five-year partnership continues to build on the work that has been done in the fight against poverty and inequality. The success stories of Mafulesi, Sediqa, Ramatu and Muna, outlined below, illustrate how the programme continues to transform lives.
Supporting women farmers in Sudan
This is Muna Abu Jabar from Sudan. Her husband was killed in war and she was forced to move to her elder brother's compound in another village, with her son.
Conflict in Sudan has caused many families to become displaced and to lose their small animals – which can mean the loss of food and income for a family. Concern runs a programme in this region, funded by Irish Aid, which provides small animals to extremely poor female-headed households. As part of this intervention, Muna was nominated by her neighbours as one of fifty women to receive two breeding goats. Since receiving the two goats, they have already produced two offspring, one male and one female.
Now Muna can feed her son and earn an income by selling the goats' milk at the market. 
"I feel blessed. These goats have improved the situation for me and my son. I now have some extra income to add to the small farming that I do, and we are able to sustain ourselves."
Village Savings and Loan Group in Malawi
Mafulesi Matengambiri (main image) is a mother-of-three from Galafa village in the Nasanje district in Malawi. Mafulesi experienced a difficult marriage and was eventually abandoned by her husband, leaving her to support her children on her own. With very little income, Mafulesi feared that she would not be able to provide for her children alone.
In Galafa village, where Mafulesi lives, Concern and Irish Aid support a Savings and Loan Group that allows members to borrow money to invest in small businesses, pay for services or cover unforeseen expenses. Thanks to the group, Mafulsei now runs her own business selling tomatoes.
She has already saved 35 dollars and she hopes to expand her business and use the money to support her children in school. She describes how the support from Concern has transformed her life,
I can now make sound decisions in my household, and have power over the resources I acquired.
The Village Savings and Loan groups have helped many women in Mafulesi's district Nsanje, with 78% of women reporting control over earnings in 2014, compared to 42% in 2012.
Education projects in Afghanistan
This is nine-year-old Sediqa. She lives in the Takhar Province, north-eastern Afghanistan and attends the Khashai Dun School, which is supported by Concern. In Afghanistan, only 17% of the overall population – and only six per cent of women - attend any type of formal education. 
With the support of Irish Aid, Concern is implementing a programme to provide education to 4,000 children in north-eastern Afghanistan. The programme aims to create child friendly schools, and to provide quality teaching and libraries. Concern is also training teachers and encouraging parents to place greater value on their children's education, particularly for girls.
Without education, we have nothing.
Community conversations in Sierra Leone
This is Ramatu. She lives with her four children and mother in Mamondor, a small village in Tonkolili District in Sierra Leone. Ramatu is trained as a community conversations facilitator and she is the chairwoman of the community conversations club in her village.
Community conversations is an approach introduced by Concern, with support from Irish Aid, whereby community members gather to discuss inequality and issues associated with the wellbeing of their community. These community conversations are facilitated and led by members of the local community, like Ramatu. 
Mamondor village is only one of 54 communities in Sierra Leone engaging in conversations.
"We have set up a community conversations club with 35 members, both women and men, and we are planning to raise money to use for the development of our children."
These stories illustrate just some of the achievements of the Concern-Irish Aid collaboration, follow the link below to find our more about our work worldwide.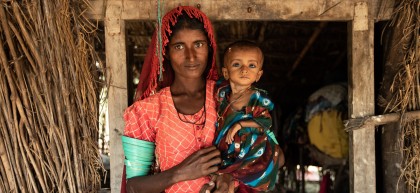 New to Concern?
Sign up to find out more about the transformative work we do in 24 of the world's poorest countries.
Before doing so you might like to see our
privacy policy
.