Conflict can be deadly. But Nothing Kills Like Hunger.
In Central African Republic, children are left battling for survival as they face the consequences of the conflict into which they are born.
When conflict strikes, hunger is always close behind. And for children living in conflict zones, the hunger is more deadly than bullets and bombs.
We can't stop the violence, but with your help, we can stop the hunger.
Right now, in the Central African Republic (CAR), violence and fear are spreading.
More than 700,000 people have been forced from their homes to escape the fighting, leaving behind both their land and their livelihoods - and the means to keep their children safe from hunger.
For almost a decade, families in CAR have lived under the shadow of an ongoing civil war. But a growing surge in fighting has spread into regions that were previously peaceful.
Leaving 400,000 children suffering from malnutrition.
Alain and Christian's story
Alain Joseph is a farmer and father living in the Bossembélé region of western CAR. Like many in the region had been living a well settled and peaceful life before conflict took it from him and his young family.
One day last November, news reached his community that armed groups were approaching. Alain picked up his 19-month-old son, Christian, and ran with the rest of his young family into the bush.
For three long months, the family hid in the bush with trees and a mosquito net for shelter. The torrential monsoon rains destroyed the few possessions they'd saved as they fled. And, with nothing to eat but foraged cassava roots, they waited, desperately hoping the danger would pass.
However, the hunger that crept into their camp unseen soon had its grip on little Christian.
Alain noticed that Christian's weight was plummeting and he'd started suffering from diarrhoea and vomiting so, when the fighting nearby ceased, Alain made the journey with him to the Concern-supported nutrition centre.
There, Christian was diagnosed with severe malnutrition, and immediately put on a course of therapeutic food. And thankfully got the treatment he needed.
"Before, when my child was sick, it was a great worry for me," Alain told us. "After a few months of treatment he started to get better and it was a great relief."
Thousands of children like Christian
So many children like Christian are desperately weak and ill from hunger as their parents simply cannot access their land or crops.
Conflict closes markets, prevents food distribution, and leaves rural communities who rely on farming helpless and isolated.
But as the number of children at risk increases, the biggest danger is that they simply don't have enough vital supplies to save children from malnutrition.
This is a food emergency. And vulnerable children need our help to survive in CAR right now.
The work that our brave and dedicated teams in rural CAR are doing is incredible – supporting families in crisis even as violence threatens.
Our teams on the ground may not be able to stop the violence, but they can bring children back from the threat of hunger.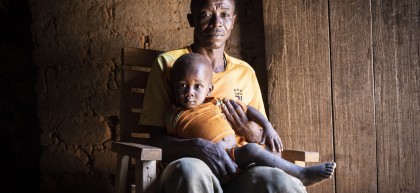 Our impact in 2021
17.8 M
people reached through our emergency response
11.4 M
people reached through our health interventions
5.2 M
people reached through our livelihoods programmes