Become a corporate supporter
At Concern, we work with companies of all sizes across Ireland. These corporate supporters share in our mission, which is to help people living in extreme poverty achieve major and lasting improvements in their lives.
Now is a better time than ever for companies and international non-profits like Concern to join together for a common cause. With an increasingly connected world, global social responsibility is an integral part of any business, and corporate support is integral to our work at Concern.
Work with us to support vulnerable people in 25 of the world's poorest countries. Together, we can work towards a world free from poverty and hunger.
There are many different ways to get your company and staff involved with Concern's work and we are dedicated to finding the best option for your organisation. Here are some possibilities:
Fund specific projects in one of our countries of operation
Make general donations that allow us to remain flexible and respond where the need is greatest
Become an emergency partner
Cause-related marketing, or CRM, is a proven way to build customer loyalty and trust, drive sales and increase employee satisfaction. According to a 2017 Cone Communications CSR Study, 87% of those surveyed will purchase a product because a company advocated for an issue they care about. From joint campaigns to point of sale purchases, we would love to talk to your company about how we can collaborate to create a mutually beneficial partnership.
We recognise that each company is different in the support they can offer. To find out how we can best work together to make a lasting change, contact our Corporate Fundraising & Partnerships Manager, Justine McNinch.
You can email Justine on Justine.McNinch@concern.net  
Join us on our mission to eliminate extreme poverty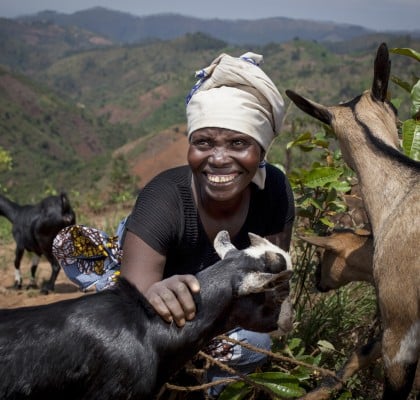 Our impact in 2022

16.4 M
people reached through our emergency response

8.3 M
people reached through our health interventions

5.4 M
people reached through our livelihoods programmes