Help children in South Sudan survive deadly hunger
If you donate €250 or more in any one year, Concern can claim an additional 45% in tax back
A deadly enemy threatens the lives of over 1.4 million children in South Sudan - one so powerful it can harm infants as they lie in their mothers' arms.
That enemy is hunger and we desperately need your help to beat it.
Imagine living in a place where one in 10 children won't live to see their fifth birthday?
That is the reality for families in conflict-hit countries like South Sudan, where people are three times more likely to be malnourished than those living in countries without violence. Children are most vulnerable to the food insecurity and cruel hunger that fighting causes.
Several regions of South Sudan have already reached critical levels of hunger and are now at risk of famine. Our teams are urgently trying to prevent a catastrophic loss of life across the country.
Daniela has survived unimaginable suffering.
In 2013, when she was just 12 years old, a brutal civil war broke out in South Sudan, forcing her family to flee their house in Malakal.
Daniela's last memory of her hometown is witnessing her father's murder just feet from where she stood.
Almost 10 years later, she is living with her four children amongst 29,000 displaced people in a camp in Juba set up by the United Nations Mission in South Sudan (UNMISS).
Daniela feels the only way to protect her children is to continue living in the safety of the camp.
She is unable to work and has almost no money to feed her children.
If there is no food, they start crying and this is what hurts me a lot. So I take the plate and go to the neighbours' houses and ask them to help my children.
Daniela's baby daughter Nyaguande has gotten so hungry she would often eat charcoal and mud on the ground to fill her stomach.
At nine months old, however, Nyaguande started refusing food and milk and suffering vomiting and diarrhoea.
Daniela was very worried, but did not realise how gravely ill her little girl was until Concern health workers in the camp paid a visit.
Nyaguande was too weak to play with her siblings and they could tell by her appearance that she was in urgent need of care. An assessment confirmed that she suffering from severe malnutrition.
Nyaguande began receiving treatment at the Concern Nutrition Centre.
Our nurse and community facilitator supported Daniela, paying frequent visits to her home and advising her on how to prevent the other children from becoming malnourished.
Thankfully, Nyaguande's condition has improved significantly. Before, she was too weak to stand. Now, she can play happily with her siblings.
The infant's appetite has come back too, which will help prevent her slipping back in to malnutrition.
"Concern staff are good people, I love dealing with them," Daniela says.
With the help of our team, Daniela has been able to save her daughter from the cruellest killer of all - hunger.
How much would you like to donate?
More families need your support
Mothers like Daniela are protecting their children from the violence and devastation in South Sudan. Without help, however, they are powerless against hunger.
With your support today, we can reach more children like Nyaguande with lifesaving food and treatment.
Please donate what you can to help protect them from this silent and deadly enemy.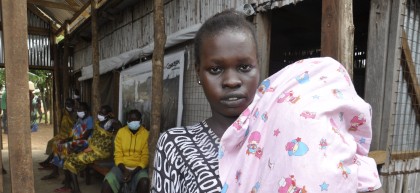 Our impact in 2022

16.4 M
people reached through our emergency response

8.3 M
people reached through our health interventions

5.4 M
people reached through our livelihoods programmes