Concern to distribute emergency relief to 14,000 affected by Nepal earthquake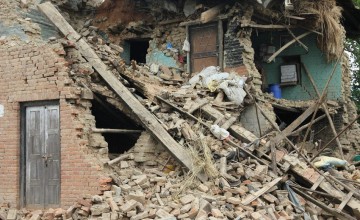 Concern Worldwide is preparing to distribute shelter and relief supplies to 14,000 families in four of the hardest-hit districts of Nepal following the recent earthquake.
We have partnered with two local organizations to carry out relief distributions in Sindulpalchowk, Dolakha and Ramecchap districts. The immediate humanitarian priorities are shelter, water, medication, and food, with some 1.4 million people currently in need of food assistance.
Ros O'Sullivan, Concern's emergency response team leader on the ground, explains our approach:
We are focusing on reaching vulnerable and isolated communities that are yet to receive assistance. Our top priority will be to give people shelter as well as hygiene items, blankets, water purification tablets, and other relief items.
Getting materials into the country and to the affected districts is proving challenging as air traffic at the airport remains congested and road travel can take days. Damaged infrastructure, rubble, and landslides mean reaching mountainous and more rural communities is extremely difficult.
Partnership with local organisations Rural Reconstruction Nepal and Nepal Water for Health is helping to solve this problem. By leveraging their local networks and knowledge, we are able to distribute emergency relief items more quickly.
As of 29 April, the Nepalese government has confirmed that 5,006 people have been killed, and a further 10,194 have been injured by the 7.8 magnitude earthquake that hit Nepal on 25 April. It is estimated that a further 8 million people have been affected by the earthquake.
Dhading, Gorkha, Rasuwa, Sindhupalchowk, Kavre, Nuwakot, Dolakha, Kathmandu, Lalitpur, Bhaktapur and Ramechhap are the most affected parts of the country. In these areas, many families live in fragile and vulnerable homes with outer walls and foundations constructed from poor quality materials.
It is estimated that over 600,000 houses have been damaged and that up to 2.8 million people have been displaced by the earthquake. In some areas near the epicentre, estimates suggest that as many as 80% of the shelters have been destroyed or severely damaged.
Swetchnya Tamraker recounts the terrifying moment when earthquake struck:
I saw my home collapse in front of my eyes. I was screaming inside, but no one knew I was trapped in there. In around 50 seconds my home was completely destroyed...luckily our lives were saved.
Fearful of aftershocks, many families are now camping in the open. Our team spoke to one family in Kathmandu:
Keep up to date with all of Concern's work by following us on Instagram.