Global Hunger Index 2015: mapping the world's hunger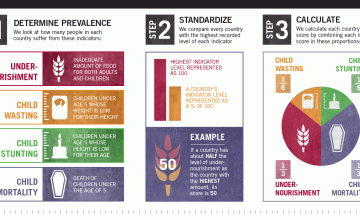 Now in its tenth year, the Global Hunger Index is an annual report published by Concern Worldwide, IFPRI and Welthungerhilfe which maps global hunger levels and identifies the improvements or the deterioration of food security in some of the world's most vulnerable countries. This year's Index also examines the complex relationship between hunger and conflict.
In 2014 alone, 11 million people were displaced by violence and conflict; that's an average of 42,500 people fleeing their homes per day.  The current estimate for those affected by conflict is a staggering 172 million. In spite of this, developing countries have experienced a 27% reduction in hunger levels as a group.
Alex de Waal, the executive director of the World Peace Foundation, notes a historic achievement of the past fifty years in this year's report — the eradication of calamitous famines (those that cause over 1 million deaths). 
Unfortunately this does not mean that we've conquered famine; great famines (those that cause over 100,000 deaths) have been reduced but not eradicated, with deaths falling from 15 million in the 20th century to 600,000 in the 21st century. Although we've made great strides, much more needs to be done: currently there are 795 million people still going hungry, more than one in four children are affected by stunting, and 9% of children are affected by wasting.
Today's famines are complex humanitarian emergencies caused mostly by armed conflict. 
Armed conflicts have evolved alongside famine into more complex and stratified affairs.  These 'new wars' are civil wars that create long-term instability and spill over borders: disrupting livelihoods and food systems.
Overall, the report shows that levels of hunger have declined by one quarter since 2000. 
A multidimensional approach is used to compile the Index, focusing on parameters such as malnutrition, child wasting and stunting, and child mortality rates.
Political stability to end hunger
Despite the strong correlation between conflict and hunger, hunger can be averted and does not have to arise from conflict.
Food security is not only an essential component of human well-being but also a foundation for political stability.
— Alex de Waal 
Notwithstanding the historical achievement of the end of calamitous famine, more needs to be done to end the acute and chronic hunger levels that are currently affecting 52 countries worldwide.
But how can we achieve this?
Improvement of food policy, economic development, international humanitarian response and resolving conflict will enable us to ensure that current gains are not squandered.