Ukraine Crisis: How Concern is responding as the situation unfolds
Millions of Ukrainian people are fleeing their homes amid the devastating conflict in their country.
As of 24th February 2022, the Russian Federation has launched a military operation on Ukraine, resulting in casualties, widespread damage and destruction, over 2 million people fleeing Ukraine and millions more being internally displaced. 
The ever-changing situation can be difficult to understand, and many of us may feel helpless as we consider how we can make a difference. Here, we explain what Concern is doing for those affected by the conflict, and how your generosity can help meet the immediate needs of the Ukrainian people.
The current situation in Ukraine
Ukraine is the second-largest country in Europe and the eighth most populous, with a population of around 44 million people, including 7.5 million children. It is bordered by Russia to the east and north-east, Belarus to the north, Poland, Slovakia and Hungary to the west, and Moldova and Romania to the south.
Now in its eighth year, the armed conflict in eastern Ukraine has taken a heavy toll on the civilian population living in the Donetsk and Luhansk regions. The regions are home to around 3.4 million people, including 510,000 children. The crisis is compounded by the impact of the Covid-19 pandemic, as well as a recent polio outbreak in western Ukraine, further challenging an already fragile healthcare system. 
On 21st February 2022, the Russian Federation officially recognised the independence of non-government-controlled areas of Donetsk and Luhansk, and two days later, Ukraine announced that a nationwide state of emergency would be declared.
On 24th February, the Russian Federation announced a military operation on Ukraine.
On the 26th February, the Office of the United Nations High Commissioner (OHCHR) reported 240 civilian casualties, including 34 deaths. Intense fighting is ongoing across major cities including the capital Kyiv, Kharkiv and Odessa, while damage to civilian infrastructure has left hundreds of thousands of people without electricity or water.
As of 11th March, more than 2.4 million people had crossed into neighbouring territories, including Poland, Hungary, Moldova, Romania and Slovakia - with the largest influx being seen in Poland - and the OHCHR estimates that as many as 5 million people could be displaced during the crisis. Most of those fleeing Ukraine are women and children.
Families, including many with small children, are fleeing with whatever clothes and food they can carry, in bitterly cold conditions, often facing huge queues to reach safety.
What is Concern doing to help?
On 28th February, Concern deployed an emergency response team, to be based in Krakow, Poland, to conduct an initial assessment to determine our response. Concern will work with Alliance2015 partners, national organisations and the United Nations to form a response. 
"Right now, our team are on the ground in the region assessing the huge humanitarian needs. More than 1 million people have fled Ukraine in the last week, and thousands more are on the move," Concern CEO Dominic MacSorley said.
"Families, including many with small children, are fleeing with whatever clothes and food they can carry, in bitterly cold conditions, often facing huge queues to reach safety.
"But while the world's attention has been focused on the refugees finding safety across the borders, there are millions of people inside Ukraine facing deprivation and death as a result of this war who urgently need your support."
We have also launched an emergency appeal, with your donations going towards meeting the immediate humanitarian needs of people affected by this conflict.
Why is Concern assessing the situation in Ukraine?
Some people may ask why Concern is working in Ukraine, when we primarily work towards ending extreme poverty in Africa, Asia and the Middle East? It is true that we have not worked in Ukraine before, and do not have a presence in any other European countries. However, Concern is a humanitarian organisation that has a long history of supporting those most in need. We believe that human life has the same value everywhere and have an obligation to respond to support the acute needs of those affected by disasters and conflict.
It is the scale of an emergency and the depth of human suffering - such as seen in Ukraine today - that determines Concern's response, not the geographical location. 
As a humanitarian organisation we will respond rapidly to people affected by disasters, and we believe people are entitled to have their most basic needs met through rapid, effective and principled responses. 
Whilst responding to the Ukraine crisis, we will continue our programmes in our 24 countries of operation.
What can I do to help Ukraine?
Concern is asking our supporters to give what they can to our Ukraine crisis appeal.
Your donations will be used wherever and for whatever is needed most by the Ukrainian people impacted by the crisis. Ukrainian children and families are in urgent need of food and shelter, and along with our Alliance2015 partners and other organisations, we will assess how best to serve the Ukrainian people's needs.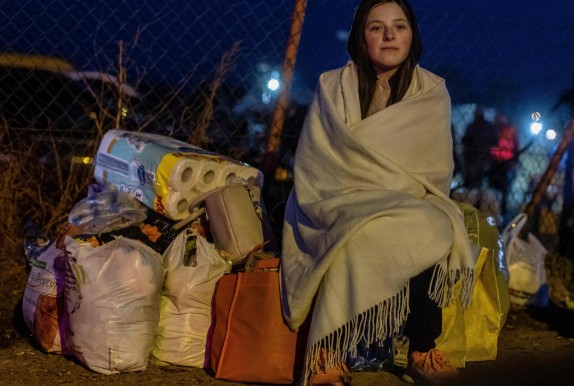 We have seen many generous collections for clothes, food and toys across Ireland, and have received messages from supporters asking if they can make donations in this way.
While we really appreciate these kind offers, we cannot send food, clothes, blankets or medical equipment overseas from the UK or Ireland, even if they are in top condition. This is because customs regulations and transport costs make the process of exporting items very complicated, time-consuming and expensive. 
It is much easier to buy these items with the help of our supporters' donations in the countries where they are needed. It reduces the cost to us, helps stimulate local markets and economies, and we can be sure that the goods that we source are appropriate - both for the local environment and the local culture. 
The best way to help in this emergency is to donate money to our emergency appeal, and anything you can afford to give will go towards alleviating the strain on those most affected by the crisis.