Microsoft's Cathriona Hallahan named as recipient of Women Of Concern Award
Launched by Concern Worldwide, the newly-established award aims to highlight the drive towards gender equality. 
Managing Director of Microsoft Ireland, Cathriona Hallahan, has been announced as the recipient of the inaugural Women of Concern award.
The honour, launched by Concern Worldwide to highlight the drive towards gender equality and recognise those who display extraordinary leadership in this area, was presented at a special luncheon event at The Shelbourne Hotel on Friday, October 19.
Ireland's largest humanitarian aid agency has held the Women of Concern Awards in the US for the past 16 years, with past honourees including actress Toni Collette, former US Secretary of State Madeleine K. Albright and world-renowned architect Aine Brazil.
This will be the first year that the awards will be held in Ireland, with professional services multinational EY confirmed as the key corporate sponsor for the event.
The event puts an important spotlight on the real and life-threatening challenges that face women and girls on a daily basis, including hunger and extreme poverty.
Commenting on the decision to grant the award to Cathriona, Concern Worldwide CEO Dominic MacSorley said the Dublin native was "immediately the person who came to mind".
"Cathriona has been a shining light for women in leadership positions in Ireland and has clearly championed gender equality and led diversity and inclusion at Microsoft for many years. Concern is committed to promoting innovation and gender equality and we can see that projects such as Microsoft's #MakeWhatsNext, Girls in ICT and DreamSpace are inspiring girls and young women to take up STEM subjects and become the leaders of tomorrow."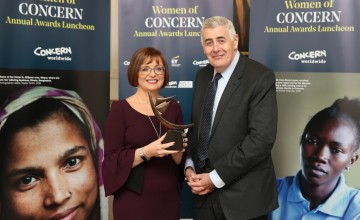 Cathriona joined Microsoft in 1986 and held a variety of senior roles in finance and operations over the past 30 years. In 2009, she took over the position as Managing Director for Microsoft's Dublin-based EMEA Operations Centre before being appointed MD of Microsoft Ireland in 2013.
Throughout her career, Cathriona has been a passionate advocate for gender equality and encouraging young female students to embrace careers in STEM. She is a member of the International Women's Forum and was inducted into the Women's Executive Network Hall Of Fame in 2015 after being named as one of Ireland's Top 25 Most Powerful Women for three years in succession.
Reacting to the announcement, Cathriona said: "I am absolutely honoured to be the first recipient of the Women of Concern Award in Ireland. Concern Worldwide has a long and impressive history of advocating for gender equality across the globe and that is a mission that is very much shared by Microsoft. I look forward to travelling overseas in the coming months to visit Concern's programmes and see firsthand the incredible work that is being done in these communities."
Microsoft has been a long-term supporter of Concern's work at home and abroad, with the organisation's cloud technology playing an "indispensable role" in the management and co-ordination of 4,000 staff members in 27 countries globally.
"Concern faces the same operational requirements as any large global company, with the added challenge of operating in communities which often have limited infrastructure. Our relationship with Microsoft ensures that Concern's operations remain effective – even in the most difficult of situations."
Cormac Murphy, Advisory Partner at EY Ireland, welcomed the decision to establish the Women of Concern Awards in Ireland.
"We're honoured to be part of this wonderful event, which celebrates the accomplishments of the world's exceptional women and girls. Our sponsorship is aligned to our Women Fast Forward programme, whose ethos is to build a better working world by advancing gender equality and recognising female role models who are advocating for change.
"The inclusion of women in the workforce and the wider global economy is crucial and therefore it is essential that organisations such as Concern, businesses and governments work together to drive this societal change. Cathriona Hallahan is an example of what can be achieved when women are supported, and is an exceptional role model to the next generation. On behalf of EY, I would like to congratulate her on this well-deserved accolade."
For more information, images or interview requests, please contact Communications Officer Marie Madden on 087-1205470 or marie.madden@concern.net.