Accenture has a strong history of generously supporting our work overseas. Over the past number of years, Accenture has helped to transform the lives of the world's poorest people, particularly in Malawi and Zambia.
Accenture-supported projects
Our conversation farming programmes in Malawi and Zambia were supported by Accenture, who awarded us with a grant of well over $4 million. Initial funding of $1.5 million was given in 2010, in 2013 an additional $3.25 million was given.
This was one of the biggest private-sector donations we ever received for the support of a specific project. The project ran in Zambia and Malawi from 2010 and finished in March 2018.
Conservation Agriculture project
Farming is the main employment opportunity in the target areas of Malawi and Zambia. The conservation agriculture programme gives farmers the skills to move from bare subsistence agriculture to income-generating farming.
The aims of conservation agriculture are:
Skills training and development in the practice of conservation agriculture
Improving access to quality farm inputs
Improving farm management and business skills
Accenture has a strong focus on corporate social responsibility which is clear from the organisations' steadfast support of our work throughout the years.
What's more, Accenture's Skills to Succeed programme, aimed at educating people around the world, building skills that enable them to contribute to the economy, is indicative of their commitment to corporate social responsibility.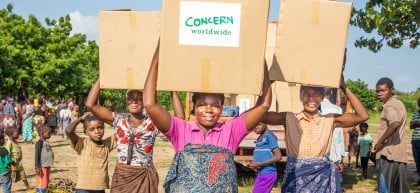 Our impact in 2021

17.8 M
people reached through our emergency response

11.4 M
people reached through our health interventions

5.2 M
people reached through our livelihoods programmes