Floods affect more people globally than any other type of natural hazard and cause some of the largest economic, social and humanitarian losses. Concern is working in partnership with the Zurich Flood Resilience Alliance to improve the lives of communities affected by flooding in Bangladesh, Kenya, Malawi and South Sudan.
Zurich Flood Resilience Alliance
For six years, Concern has been working with the Z Zurich Foundation as part of the Zurich Flood Resilience Alliance (The Alliance) at a global and local level. The Alliance is a cross-sector collaboration of nine member organisations from the private sector, international development and humanitarian sectors, and academia.
The Alliance focuses on finding practical ways to empower communities to strengthen their resilience to flood risk – and save lives. This innovative approach gives local community groups the technology and insights they need to monitor, predict and plan for the effects of flooding.
As part of this partnership, the Z Zurich Foundation is providing multi-annual funding for Concern's flood resilience work in 62 flood-vulnerable communities. The Alliance also works to increase funding for flood resilience, strengthen global, national and subnational policies, and improve flood resilience practice.
Visit Concern's Knowledge Hub to read more about the work our country teams are doing as part of the Zurich-funded Flood Resilience Alliance. 
This partnership goes beyond a financial contribution. Funding comes through the Z Zurich Foundation, but Zurich Insurance Group is also a partner in the Alliance. As such, it provides expertise as a global insurer to develop programming that shifts the focus away from post-event recovery and rather stresses the importance of pre-event resilience-building. This helps communities to reduce the devastating impacts of floods, even before a flood hits.
This is in synergy with Concern's approach to community resilience building of which disaster risk reduction is the foundation and a cornerstone of our approach to sustainable community-led solutions.
This six-year programme has three objectives:
To increase funding for flood resilience
To improve policy at global, national and sub-national scales
To improve flood resilience practice at community level
The Zurich Flood Resilience programme was the recipient of the 2014 UN Lighthouse Award and also earned the Outstanding Achievement Award from the 2019 National Hurricane Conference in the US for its work to develop and implement its Post Event Review Capability approach. The programme also received the National Civil Protection Award by the President of Mexico in September 2019.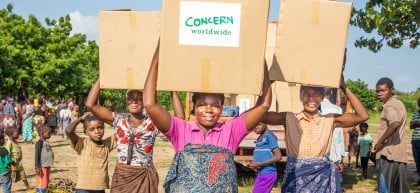 Our impact in 2022

16.4 M
people reached through our emergency response

8.3 M
people reached through our health interventions

5.4 M
people reached through our livelihoods programmes