Concern is working closely with the Zurich Flood Resilience Alliance to build the resilience of communities to local and regional flooding. Floods affect more people globally than any other type of natural hazard and cause some of the largest economic, social and humanitarian losses. ​​​
Zurich Flood Resilience Alliance
Concern is working in partnership with the Z Zurich Foundation as part of the Zurich Flood Resilience Alliance (The Alliance) - a multi-sectoral collaboration of nine member organisations from the private sector, international development and humanitarian sectors, and academia.
The Alliance focuses on finding practical ways to help communities strengthen their resilience to floods – and save lives. As part of this partnership, the Z Zurich Foundation is funding Concern's flood resilience work in 22 flood-vulnerable communities in the Chars (sandbar) of the Jamuna and Teesta rivers in Bangladesh.
This partnership goes beyond a financial contribution. Funding comes through the Z Zurich Foundation, but Zurich Insurance Group is also a partner in the Alliance. As such, it provides expertise as a global insurer to develop programming that shifts the focus away from post-event recovery and rather stresses the importance of pre-event resilience-building.
This is in synergy with Concern's approach to community resilience building of which disaster risk reduction is the foundation and a cornerstone of our approach to sustainable community-led solutions.
This programme has three objectives:
To Increase funding for flood resilience
To Improve policy at global, national and sub-national scales
To Improve flood resilience practice at community level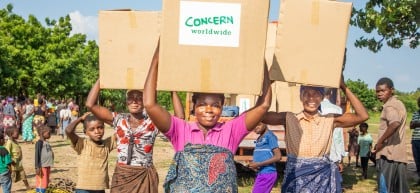 Our impact in 2020
17.9 M
people reached through our emergency response
9.2 M
people reached through our health interventions
4.3 M
people reached through our livelihoods programmes