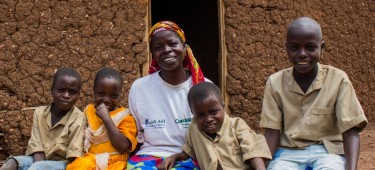 Beatrice Mukandagano, a beneficiary of the Graduation model programme in Kirundo province (Burundi) sitting with her 4 children beside the house she built herself in Bugabira commune. She also bought land to cultivate as a result of the programme.
Approach
Graduation Programming
An integrated and sequenced package of support - combining social protection, livelihood promotion, social empowerment and financial inclusion to create pathways out of extreme and chronic poverty.
What is the Graduation Approach?
Graduation programmes support people living in extreme and often chronic poverty with a pathway out of it. They provide sequenced and tailored packages of support to help people address the barriers they face to moving out of poverty – from situations often defined by food insecurity and high levels of vulnerability towards sustainable livelihoods.
The Graduation Approach is an example of a 'big push' intervention designed to move people out of conditions of extreme poverty by simultaneously boosting livelihoods and income, providing access to financial services and improving social wellbeing. The approach encompasses four main pillars: social protection, livelihood promotion, financial inclusion and social empowerment.
All of Concern's programmes contain the core elements of comprehensive targeting, income support, technical and business skills training, coaching and mentoring, support to access basic and financial services (savings and loans) and provision of a capital/asset transfer.
These activities are sequenced over a period of time – usually 24 to 36 months, though the design and delivery varies greater between programmes and contexts. The figure below provides an example of how activities are sequenced over a 36 month period.
Graduation approaches are designed to bring about sustainable changes in people's well-being. However, providing a comprehensive package of support at a household level alone is insufficient if programmes do not address the institutional, societal and cultural barriers that prevent people from engaging fully in society. In order to bring about transformative and sustained changes in livelihoods, we need to go beyond household asset building – beyond the integrated package of support provided at the household level, and consider the enabling environment – the systems within which people live and work.
Concern considers three main sets of systems: economic and financial systems, risk management systems and basic service systems. Whilst not all elements need to be incorporated into programme design – and it is important not to overwhelm programmes – it is essential to understand which systems are functional and can be accessed by targeted households and which are not. Weak/inaccessible systems need attention, not necessarily through the programme or by Concern directly but through complementary interventions.
Graduation approaches are quickly becoming a key feature of national social protection systems globally and to achieve scale, it requires a systems-level approach with governments at the forefront. Estimates show that economic inclusion programmes (including those adopting a Graduation Approach) currently serve 92 million people (directly or indirectly) in 75 countries.
Map of Graduation programmes within Concern
How we are Greening Graduation
The climate and biodiversity crisis is very real and we are seeing the stark impact that changes in climate conditions are having in the places where Concern works. People living in extreme poverty are often highly reliant on natural resources for their livelihoods and therefore disproportionally affected by the effects of climate change. Given the critical links between the Graduation Approach and environmental protection and sustainability, we are working to ensure that Concern's Graduation programmes apply a green lens to every stage of programme design. We have developed the following working definition of Green Graduation:
An approach that strives to address social and economic inequalities whilst taking a transformative approach to tackling negative environmental practice and improving the efficiency and sustainability of natural resources/assets.
Greening is not an add-on. Rather it is a change in the way we do things. There is no single way to green graduation. It involves a mix of approaches, developed for different stages, over different durations. What we do, or have the capacity to implement or influence depends on the context, including the climate and environmental policy infrastructure, political economy and market dynamics. Potential activities fall under one of the five following areas, which include minimum requirements alongside activities that fully integrate the environment into the programme:
Awareness raising and capacity building (at all levels)
Examine potential environmental impacts (environmental assessment)
Avoid harm to the environment and mitigate through environmentally enhancing activities (do no harm)
Sustainable management and restoration of natural resources (restore natural assets)
Promote low carbon development (Green Jobs)
Implementation guides and tools
We are committed to producing high quality learning and have invested in operational research to better understand the effectiveness of programme approaches and the barriers faced by particular groups in escaping extreme and chronic poverty.
For more information on our research in Rwanda and Burundi (in partnership with the UK's Institute of Development Studies) please see: Research from the Graduation Model
For more information on our research in Malawi (in partnership with TIME (Trinity Impact Evaluation Unit) at Trinity College Dublin please see: The Graduation Model and Gender Empowerment research project in Malawi
For more information on our research on urban livelihood trajectories in Bangladesh with the UK's Institute of Development, please see: Understanding Urban Livelihood Trajectories in Bangladesh
Partnership is central to our approach. Several of Concern's programmes are integrated within broader systems of social protection; building on top of existing safety net programmes (Malawi, Ethiopia, Somalia, Bangladesh) and/or directly implemented by government departments (Rwanda and Burundi).
We also work closely with national NGOs on implementation whilst, at a global level, we engage in several key networks. We are a technical partner of the World Bank-hosted Partnership for Economic Inclusion (PEI), the NGO Collaborative and the UNHCR-led Poverty Alleviation Coalition (PAC). Collectively, we gather evidence on what works and share good practice, we also advocate for the adoption and scale up of the approach under national social protection systems.
These publications cover aid activities implemented with the financial assistance of several donors, including Irish Aid, FCDO and others. The ideas, opinions and comments herein are entirely the responsibility of the author(s) and do not necessarily represent or reflect the policies of any donors and the donors are not responsible for any use that may be made of the information it contains.