Can we really prevent gender-based violence?
Concern's Equality Advisor Adèle Fox highlights our efforts as we prepare for 16 Days of Activism Against Gender-Based Violence.
I've heard many times that culture and social norms are too difficult and will take too long to change. I've also been asked whether we are not imposing Western ideals on other cultures when we talk about gender and equality and thereby also gender-based violence.
My response to the first point would be that cultures change all the time - if we look at the culture that our grandparents and our parents lived in, there are differences to the way we live, including men and women's typical roles in the home and in the workplace and the public profile of men's violence against women.
These changes happen through individuals who are willing to do things differently and be seen doing things differently, as well as the influence of media, arts, marketing, education, laws, policies and more.
This year, as we mark another 16 Days of Activism Against Gender Based Violence, it is an opportunity to highlight the approach we use to tackling this issue and share some of the outcomes.
What is Concern's approach to preventing gender-based violence?
Concern's programmes aim to affect culture positively, by taking people through a process of gender transformation as a way to challenge deeply held beliefs and norms about men's violence against women.
This process allows people to reflect on their attitudes and behaviours towards gender, to better understand the impact these have on their partners or on others, and asks them to question whether there are alternatives to those they have identified as negative.
Quite simply, there are many cases where people have never been asked to reflect on such matters before.
They have often grown up in cultures that expects men to beat their wives, where children grow up learning that being violent is what it means to be a man or and that women should expect to be beaten. This culture is often reinforced by impunity for perpetrators.
Having the opportunity to reflect, to listen to other men and women's experiences and to be exposed to alternative ways of living as partners, families and communities creates the basis for change.
So, in response to the second point on whether we are imposing Western views, I would respond that we are instead posing questions that for many people have most likely never been posed before, allowing them to come up with the way ahead, and the way they want to live.
We have a global partnership with Sonke Gender Justice, a South African based NGO who train Concern's staff and partners, helping them to reflect on their own attitudes and beliefs.
They use a series of interactive sessions that focus on people's individual experiences within their marriages, their childhoods, their workplaces or with their parents and their children. The sessions discuss society's gendered expectations, the dynamics of power, violence - how it is learned, the impact it has and peaceful alternatives.
They encourage participants to deeply reflect and decide what change they want to make.
The next step is for our staff and partners to facilitate gender transformative discussions with couples and husbands/fathers in the community, to engage community leaders in the role they can play and train teachers in positive discipline techniques.
Does the approach really work?
We have been using these approaches for around ten years already in a number of the countries in which we work, and we have seen and heard the incredible changes that it has sparked through research and monitoring.
To hear directly from Sonke, from our staff and from the communities we serve, please watch this short video focusing on the impact of our approach in Malawi, DRC and Sierra Leone.
Preventative programming against GBV continues to generate promising results, many of which are highlighted in our special gender equality edition of Knowledge Matters.
Ultimately, our data is showing us that this overall approach is a powerful one, sewing some seeds for fundamental change for women, men, children and communities.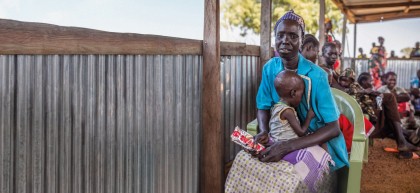 Our impact in 2022

16.4 M
people reached through our emergency response

8.3 M
people reached through our health interventions

5.4 M
people reached through our livelihoods programmes