Drought threatens livelihoods of farmers in DPRK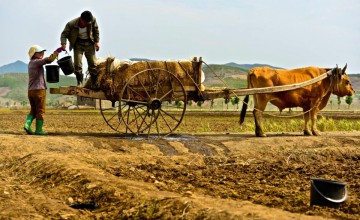 For the last 18 months, the Democratic People's Republic of Korea (DPRK) has undergone an extraordinary spell of dry weather. Now the country is facing drought in crucial agricultural areas – the effects could be disastrous.
Rainfall for the past year has been markedly below average. The DPRK government has reported that 31% of rice growing areas have suffered from serious water shortages this year. Rice paddy fields should be full with water at the moment. However due to reduced rainfall levels, lower levels of water in hand-dug wells and weak irrigation systems, the paddy fields are extremely dry making it difficult for the rice plants to survive.
Early crop production (such as potatoes, maize, wheat and barley) is likely to be reduced by 40–50% in drought-affected areas. The main harvest could fall by up to 40%.
This shortfall in food production could lead to a devastating outcome for the wellbeing and livelihoods of up to 70% of the total population.
Drought comes with high risks not just to food security, but can also reduce production of hydro-electric power and exacerbate the spread of waterborne diseases.
Across the regions in danger, co-operative farms have mobilised large numbers of people to support rice planting and watering until the rainfall becomes adequate for their survival. It is not clear how much this will offset the drought.
Concern has purchased and delivered 100 pumps for the immediate irrigation of fields to help the current rice crop reach its full potential.
Find out more about this, and our other work, by receiving email updates.