Türkiye-Syria earthquake, six months on: "We're here, we're together, we're safe"
On Monday 6th February 2023, two massive earthquakes struck southern Türkiye and northern Syria, killing over 50,000 people and forever changing the lives of those that experienced it.
A 7.8 magnitude quake struck - with the epicentre close to the city of Gaziantep - in the early hours of that morning, while people slept.
As people reeled from the shock and the destruction around them, a second earthquake with a magnitude of 7.5 struck, bringing further devastation to the region as the helpless world watched on.
This Sunday 6th August marks six months since the tragic events of that day.
We recently visited a village near Adıyaman in southeastern Türkiye and spoke to people whose lives were torn apart by the horrific events of that day, as well as our Concern colleagues who have been working tirelessly to support survivors of the earthquake.
As well as distributing essential items in some of Türkiye's most remote communities, we have also been providing psychosocial support (PSS) as part of our protection programmes.
PSS allows children like Mine to access child-friendly methods of playing and learning in order to help them express their emotions in a healthy way.
Mine lost her uncle and her home on February 6th.
"My life changed after the earthquake, I lost my uncle and my house collapsed. This time has been very challenging for us and we are trying to support each other," she told us.
"The village lost a few houses and my brother is living in Malatya and he lost his house too. We are still living in the tent and it's very challenging.
"This is my first session of the PSS activity and the first time that the facilitator has been able to visit us, and we have started to speak about our feelings.
"I am so happy to be here and I'm really excited to be joining this activity."
Life, slowly, has started to take on some semblance of a new normal for Mine and her family.
"I love to spend my time with my friends and to play with them. I also have sisters and brothers and we are having a good time playing together and having fun at home."
When we asked her what her hopes for the future were, she said, "I want to complete my studies and then I would love to join the police so that I can help to support my family financially."
Kemal (main image), who is 38, also lives in Mine's remote village and has four daughters aged three, five, eight and 12.
He describes how a once happy community has been changed beyond recognition as a result of the earthquake.
"Before the earthquake people seemed happy in the village but now they want to leave as they don't feel safe, they're afraid of more earthquakes," Kemal revealed.
"I hope they don't happen and that people are able to stay here but for now, people are looking for any opportunity to leave."
"Before the earthquake there were about 250 people living here, now there's about 150."
Kemal, a beekeeper, knows that he must continue to work as best he can while supporting his young girls.
"Of course we are afraid after the earthquakes but we have to try to continue with our lives, we have to work. I am afraid, of course, especially for the children, I have four children and it's very hard on them.
"They used to sleep in their own rooms but now they are too afraid and they sleep with us.
"They are very afraid and small incidents like a door closing can set them off, they'll scream and cry and think that another earthquake is happening. When this happens all we can do is try to reassure the children and tell them not to worry, we say, 'we're here, we're together, we're safe.'"
For survivors of the earthquakes, the emotional distress remains as profound today as the physical devastation that took place just half a year ago.
Leyla* is a 48-year-old mother of four boys and one girl - aged between 10 and 25 - who told us about the night immediately after the earth shook.
"It was winter when the earthquake happened and it was very difficult for us, there were more than 200 people from the village staying under one tent, there was no sleep really as everyone only had space to sit," she recalled.
"It was really cold, that first week after the earthquake was very challenging for us.
"We were very afraid when we were thinking about what had happened, but we all worked together as a village, preparing meals together."
The fear of further destruction has not left Leyla since.
"I'm still sleeping in a tent because I'm still afraid to go back to my home," she added.
"They checked my home and said it has some damage, it is difficult living in the tent - it is very hot now. There is no bedroom, there is no toilet and if you want to go to the toilet during the night, it is a challenge."
Concern's work in Türkiye
Kemal and Leyla were both provided with essential goods in the course of our work in their village, where we distributed hygiene kits, non-food items and jerry cans (for transporting water), and other necessary aid, while also providing emotional support through our psychosocial programming.
Ozge Celebi is working as Concern's area manager in Adıyaman, and she told us about the importance of the distributions - which can also include food baskets, baby kits, nappies, lamps, blankets, and mattresses - to survivors of the earthquakes.
On average, we are distributing to almost 800 families per day. Receiving this support has brought relief to many people, but anger and fear still remain.
"At the beginning there was no hope, many people lost someone or they lost their houses or their workplace. The loss is huge," Ozge explained.
"When organisations and the government started to respond to the emergency it brought hope but the conditions are still very hard because some people there are still living in tents, some of them have moved to containers."
"We are here and we are listening to you"
People "just want their lives back", Ozge added.
"People feel overwhelmed, they want to move to their routine, to their previous life, but it's impossible now to immediately change their living conditions, so they need some time to recover.
"We can see the frustration and they are asking when they will have their lives back.
"When we go to the field, especially in the villages, they say to us, 'we supposed that people forgot about us but you are here and you are distributing something'. It's very meaningful.
"That's why this is actually kind of a psychosocial support, because we are saying that we are here and we are listening to you.
"Almost six months have passed since the earthquake, it's not long but it's not short. People are still suffering, and [some services are still unavailable, like education, like equal shelter].
"That's why the people have problems and we just try to support them as best as we can."
Written by Kathy Armstrong and Tony Cuddihy
*Names changed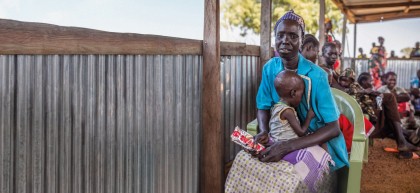 Our impact in 2022

16.4 M
people reached through our emergency response

8.3 M
people reached through our health interventions

5.4 M
people reached through our livelihoods programmes