What is Concern doing to fight the effects of climate change?
As the global impact of climate change continues to grow, many of the world's most vulnerable communities are facing a fight for their lives.
Climate change is often talked about in terms of the future, but the reality is that it is having a devastating impact on the world's poorest right now.
The current climate crisis means that weather events such as floods, droughts and even locust outbreaks are becoming more and more frequent. Millions of people across the globe are completely dependent on their crops in order to feed their families but when these fail due to extreme weather, they are left with nothing to eat and fighting to survive. 
The United Nations Climate Action Summit has heard that approximately 400 extreme weather events now take place across the planet in any calendar year; four times the number experienced in the 1970s.
The vast majority of refugees across the world live in climate hotspots as greenhouse gases continue to get trapped inside the Earth's atmosphere, warming the planet ever closer to the point where irreparable harm is caused.
According to the UN, one billion people across 100 different countries are threatened by desertification – the process by which fertile land turns to desert – and that figure is only going to get bigger as the planet heats up.
With 2020 having been the warmest year on record, signatories to the Paris Agreement have their work cut out to achieve the agreed 45% reduction in greenhouse gas emissions by 2030, and zero emissions by 2050.
The clock is ticking.
What is happening to the planet?
Droughts and floods have almost doubled since the early 1990s and, perhaps more worryingly, the last five years are the warmest since records began.
While it is not possible to attribute a single weather event to climate change alone, what is known is that global warming intensifies certain meteorological events.
Climate-related deaths occur as a result of heat waves, floods, wild fires, water-borne and vector-borne diseases, malnutrition, air pollution and drought.
One important point to note is that while many of the current discussions focus on the future, our climate emergency is already having a profound impact on communities across the globe.
The region of Turkana in northern Kenya is one example and on a recent visit by Concern Worldwide, the consequences of the climate crisis were clear to see.
An area the size of Ireland, Turkana used to experience droughts every 15 to 20 years.
However, from the late 1990s onwards, that reduced to every five years. More recently?
People are experiencing drought every second year, including pastoralist Atiir Kataboi.
I remember when I was growing up, there used to be plenty in this land.
"We used to drink milk, we used to eat meat and we had a lot of harvest from the forest. Life was so good. But now, things have really changed since the drought came in… it has cleared all the animals, all the livestock, the fruits of the land. The trees have also withered, there is nothing that comes from them. Everything has dried up."
"In Mozambique, two severe cyclones emerged in the Indian Ocean - Idai and Kenneth," says Michael Mulpeter, Concern's Climate Change Adaptation Officer.
"Mozambique has never been hit by two storms of Category 2 strength or higher in the same year since satellite records began. Tropical cyclones in this region are growing stronger as a result of global warming, causing widespread devastation."
Mulpeter cites a number of all too recent global weather events, linked directly to changes in the climate, that have had a devastating effect on the lives of people ­­who have made little contribution to the causes of global warming.
In South Sudan, communities affected by conflict are experiencing floods on an annual basis; and drought regularly. Often the two occur in the same year, making livelihoods that depend on food production impossible – a situation further aggravated by conflict.
"In Bangladesh, floods are becoming an annual event and the severity of the flooding is increasing.  This causes land erosion which peaks during the June-to-October monsoon season, bringing torrential rains and swelling the country's rivers.
"In 2019, erosion destroyed the homes of at least 8,000 people in Bangladesh's northern districts during heavy July floods that swept through the region and displaced at least 300,000 people across the country. Hundreds more households have been stranded recently."
Climate change and poverty
Mulpeter highlights that the people being hit hardest by the effects of climate change are those who have had the least to do with damaging the planet.
"What we've found is that the direct impact of climate change and extreme weather in the last ten to fifteen years has made many of the communities we support much more vulnerable, much more isolated, much more marginalised," he says.
That marginalisation will continue if emissions are not cut, and soon.
According to the World Bank, at 2°C of warming, between 100m and 400m more people will be at risk of hunger. A staggering one to two billion people will no longer have adequate access to clean water.
The impacts of climate change are expected to make the poor poorer and increase the total number of people living in poverty.
Ireland has not been immune to the effects of climate change, with weather extremes in 2018 causing massive difficulties in rural communities in particular.
The so-called 'beast from the east' brought Siberian weather conditions up to the end of March, with the extreme snowfall pushing out the winter/feeding season by a full six weeks. The subsequent extended period of dry weather over the summer played havoc with the livelihoods of farmers facing a fodder deficit heading into the winter months.
Dairy, beef and tillage farmers were left with major challenges, and those managing livestock were forced to use stocks of silage intended for use in 2019.
Crops sown in the spring failed to mature properly, leaving a significant impact on yield within Ireland's sizable agricultural industry.
What do we need to do to fight climate change?
When Ireland's Citizen's Assembly got together in 2017, they came up with 13 recommendations on how to make this country a leader on climate action.
A forward step in the government's response to global warming, the new Climate Plan puts measures in place to increase accountability and stay consistent with commitments made at EU level.
If Ireland has faced some challenges in reducing carbon emissions in line with the Paris Agreement, steps are being taken to ensure that the economy can continue to function strongly while taking environmental factors into account on a grand scale.
The Climate Plan, published in 2019, includes a range of significantly increased targets and raises major initiatives across all sectors; these include a commitment to reaching 70% electricity from renewable sources by 2030 and new procedures to ensure all government investment decisions will be climate-proofed.
The success of the plan will depend on how swiftly and effectively it is implemented.
As the government looks to balance environmental and economic needs, businesses, schools, agencies and individuals across the country are taking their lead from the 17 Global Goals ratified in 2015, goals that need to be achieved by 2030 in order to sustain a planet that's safe to inhabit.
Our vision for the future
Instead of disturbing the soil, we encourage farmers to construct zai holes, or permanent planting basins, which fill with water during wet season and create an ideal environment for seeds to grow.
This has changed many lives, and as a core part of our resilience strategy, the continued success of Climate Smart Agriculture is crucial in protecting the world's most vulnerable people against the worst elements of climate change.
In addition, we support these communities with nutrition and livelihoods assistance to help to improve their quality of life in the short term.
While the number of hungry people in the world is growing, migration and displacement is increasing across the global south, and extreme weather has affected a staggering 62 million people in 2018, we remain hopeful that these trends can be reversed through government action and individual responsibility.
"We want to ensure climate adaptation and resilience-building projects serve the interests of the most vulnerable," adds Mulpeter.
"We want to help people living in extreme poverty achieve major improvements in their lives, which last and spread without ongoing support from Concern."
Find out more about our work by clicking the link below.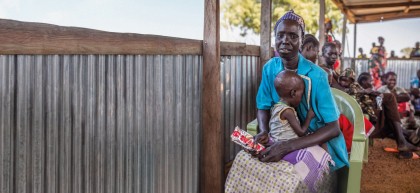 Our impact in 2022

16.4 M
people reached through our emergency response

8.3 M
people reached through our health interventions

5.4 M
people reached through our livelihoods programmes