Conservation agriculture projects harvest rewards in Malawi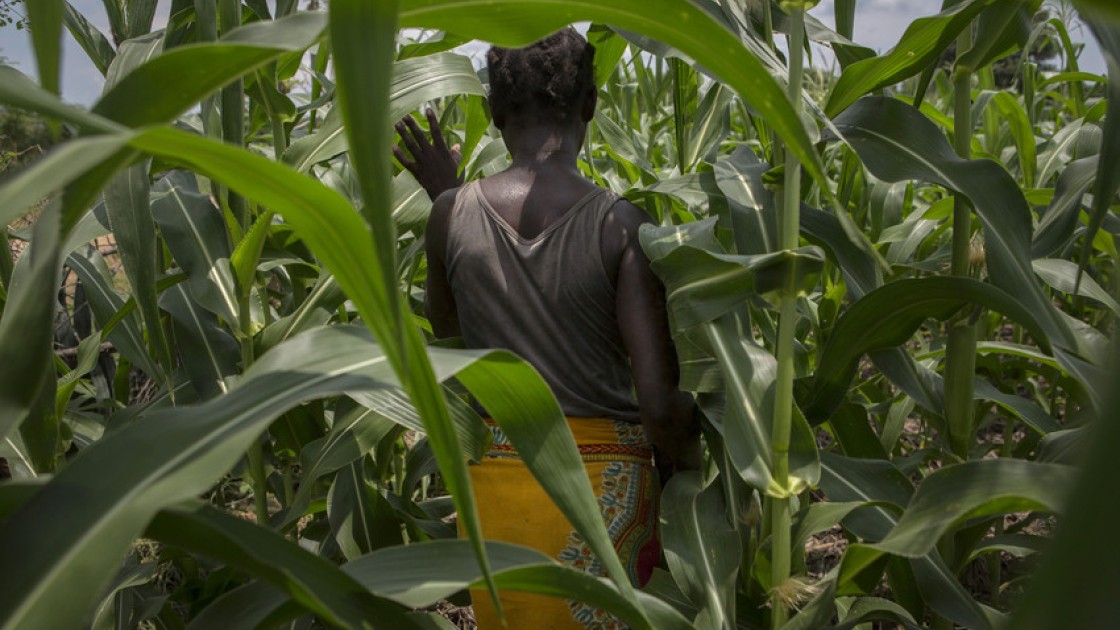 Mother of four Alyne Mpunga joined one of Concern's conservation agriculture projects in Malawi in 2012 and is now harvesting the rewards.
Alyne Mpunga proudly walks through her field of maize – maize that is taller than her. Before joining one of Concern's conservation agriculture programmes in 2012, Alyne and her family struggled with hunger. She tells us:
Before there were times we would go to sleep with empty stomachs.
Concern Worldwide provided Alyne with seeds, fertilizer and other tools alongside training and support. She tells us:
I have learnt a number of techniques such as how to make manure and post-harvest handling that have helped me increase my yields. I am growing three varieties of maize and cowpeas.
The results speak for themselves. "We are able to harvest more now," she explains. "Before we would harvest two to three bags and now we harvest 10 to 15 bags from the very same plot of land." A larger harvest means that Alyne can feed her family and more.
Now we have enough food. We have enough to feed the family and to give to other relations and we sell anything that is left over.
Concern implements a range of similar programmes in the Lilongwe, Nkhotakota and Nsanje districts of Malawi. Each programme is specifically targeted around the needs of individual farmers and can include:
training in conservation agriculture
small livestock pass-on schemes
support for income-generating activities such as building fuel-efficient stoves
village savings and loans clubs
agroforestry
small business/cooperative development
These programmes helped 84,000 people in 16,154 households in 2014.
Find out more about this, and our other work, by receiving email updates.
New to Concern?
Sign up to find out more about the transformative work we do in 25 of the world's poorest countries.
Before doing so you might like to see our
privacy policy
.