Stories from Central African Republic: the cost of sectarian conflict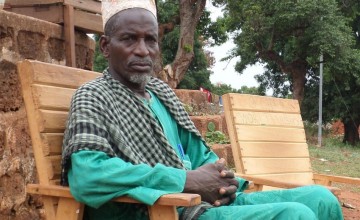 Whether Muslim or Christian, sectarian fighting in the Central African Republic has had devastating effects on struggling farmers. Bloodshed, displacement and destruction have left the population traumatised and vulnerable.
At least 5,000 people have been killed as a consequence of widespread violence stretching back to 2012. A security vacuum means civilians and their property are deliberately and aggressively targeted. Sexual crime, hunger and poor health are rampant.
In May 2015 armed forces agreed to disarmament and demobilisation in a forum on national reconciliation. But even in the advent of peace, the violence will leave a difficult and complex legacy.
Here, farmers from both faiths tell us about their struggle amidst sectarian violence in their country.
Ava is a mother of five and cultivator in the village of Boganda II. The town was occupied in late 2013 by the Seleka faction, leading to the flight of Christian farmers like Ava. Here, she describes the razing of the village:
"After the Seleka installed themselves in the village they started to arrest people who had money or who were important. People started to flee the village progressively when the Seleka started to go from house to house in search for money and our belongings. At one stage they also arrested my elder brother, but he escaped, which provoked the Seleka to target my family. At that moment we fled the village while the Seleka went after us and shot at us. Luckily nobody got hurt and we managed to escape. We were forced to drop the belongings we managed to take with us in order to escape."
"We stayed for several months in the forest. Although the men went back to the village at night to harvest manioc this was not enough to feed everyone and in the bush we found leaves to eat. Initially we slept under trees while the women gave their skirts to their children to sleep under. Later we made huts from banana leaves. We collected water from a natural source using plastic mugs and stored it in plastic water bottles. Some women gave birth in the forest. Luckily there were no major complications."
"I am happy I still have all my children but I lost everything else. I lost my house and my belongings. I have no bed, only a mat to sleep on.
The crops in our fields have been burned, our harvest destroyed and we lost all our seeds we need for the next planting season. We have constructed small temporary houses in the village. I would like to build a bigger house for myself and my five children but I cannot afford to."
"It is difficult at the moment to finance the reconstruction of my house and to get seeds for the upcoming planting season. I really need seeds to plant crops. In the village, people try to pick up their lives, and so am I. People start to rebuild their houses. I am providing food for the construction teams in exchange for them building my new house.
Part of the manioc I use to cook for the construction teams and my family, the rest I sell to buy seeds and pay my children's school fees. All my children go to school except for my eldest son of 15. He left school to help me."
Yaloké is a small town in south-western Central African Republic, the capital of Yaloké sub-prefecture. Yaloké was occupied by the Seleka for most of the period of Seleka reign in C.A.R. from March 2013 to February 2014. Yaloké had a relatively large Muslim population which has been accused of collaborating with the Seleka. The civil Muslim population was attacked by the Anti-Balaka faction and by the civil Christian population during the fall of the Seleka president, Michel Djotodia, in January 2014. Many were killed and the survivors managed to flee abroad where they still are until today. 
However, there is a group of about 400 Muslim men, women and children trapped in an enclave in Yaloké. Aasif is one of them: a cattle herder from the south of the country who attempted to flee to neighbouring Cameroon. Even with an armed escort, leaving Yaloké is at present too dangerous for them, so they live under protection.
"When the events started, I lived with my family in a village named Bolemba. I had lived there for over 30 years where I served as Deputy Mayor and Representative of the FNEC (National Federation of Central African Breeders).
Before the events my community was already suffering from frequent robberies by highway robbers who the kidnapped children of cattle herders and claimed significant ransoms. Subsequently these robbers fought the Seleka. From there the killings started."
"We decided to seek refuge in Cameroon. From the village, eight members of our community could not leave because they were frail and unable to walk through the forest. We learned later that they were all killed a few days after our departure.
We fled into the bush towards the North-West. After three months of travelling in very difficult conditions we arrived at the village of Bekamoule where we were temporarily installed."
"An Anti-Balaka colonel who led troops in Yaloké had sent a messenger to tell us that there would be no attack against our community and were offered the opportunity to continue under Anti-Balaka protection. We accepted the Anti-Balaka to escort us to another village.
Soon it appeared the armed protection offer was a decoy. Upon leaving, we were attacked by a detachment of Anti-Balaka with light weapons and grenades. This attack left a dozen killed in our community and a lot of our basic necessities were stolen. Also a significant amount of our cattle died because of the grenades."
"Throughout our five month journey we saw 65 people killed on the road. Over the past year we saw 51 more deceased while we were transited in villages and camps as a result of poor living conditions.
My eldest son who was in his forties and a father of 14 was killed. Two sons of my younger brother were also killed. Basically, I lost seven members of my immediate family. Together we have lost over 600 cattle, which is a fortune for our family. My house was burned and with it the rest of our belongings, my identity cards and birth certificates."
"We would like security, we would like improved health and nutrition. Malaria rates are rising and we see too many cases of acute malnutrition among us. Since our stay here at camp we have recorded 51 deaths from malaria and malnutrition.
In the near future, we want the revival of our business. We are a community of livestock farmers; our only business is livestock. We would like to relocate to an area where security is guaranteed and which gives us the means to revive our animal breeding of both large and small livestock."
Ava and Aasif were in conversation with Arjan Ottens.