Married in the wake of genocide, a couple finds peace in Rwanda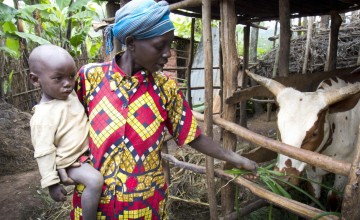 Mukankaka Seraphine and Ruilangwa Vianey have been married for almost 20 years. Their wedding was an attempt to start over after losing nearly all of their loved ones to genocide in Rwanda. This is the story of their remarkable relationship.
We left our house because our neighbours tried to kill us.
"We left at night. The killers were beginning to destroy houses. We went to a local church with others [who were fleeing]."
She and her family left immediately and tried to make their way to Burundi. Two hours after they left, the parish church was destroyed, along with everyone seeking safety within it. On the way to Burundi, they ran into the very people they were escaping from.
"We tried to fight back," she says, her eyes staring at the dirt floor of her home. "My father, sister, and brother were all killed."
Ruilangwa's story is similar.
He too sought refuge along with his wife and daughter at a nearby church. But they did not leave before it was attacked. Both his wife and daughter were killed.
When asked how he stayed alive through harshest weeks of the genocide, he answers, "only God."
Mukankaka and Ruilangwa settled along with thousands of others in a camp in Burundi. They met and married as refugees, unsure if they would ever be able to return to Rwanda. "At that time, life was bad," she says.
We had no house. Whatever we ate came from the international community.
 They eventually returned, settling on a patch of land on a hillside in Nyaruguru district in southern Rwanda, not far from where they had fled months before. "I was afraid to go back," recalls Mukankaka. "I thought we could be killed. I was afraid of our neighbours." 
But Mukankaka and Ruilangwa began to make a new life together, building a two-room house and starting a family. They worked as day labourers on the surrounding crops, but money continued to be a struggle. Mukankaka's health wavered, making it difficult for her to work regularly. Apart from their house, the couple had no assets.
In July 2011, the couple took part in Concern's graduation programme. Using seed money from this programme, they started a farm and launched their own business. They raise animals and grow sorghum from which they make their own homemade beer.
This business has doubled their family income, allowing Mukankaka to receive health care regularly. Their four children are able to attend school. Ruilangwa says
It is still a struggle, but we have found a way to move out of poverty.
When asked about how their life is different today than it was 20 years ago, Mukankaka and Ruilangwa had the same message – that they are hopeful for the future and proud to be Rwandan.
"It is very interesting now in Rwanda," says Ruilangwa.
I am very proud to be in and from Rwanda. Concern has contributed a lot to our quality of life. They have invested in our future.
But Mukankaka says that one thing has stayed the same since the two of them were married in the refugee camp years ago.
I am still proud of my husband – who he was then and who he is today.